December 27, 2022
Interviews
Interview with Luca Kumahara
"We can go through this change."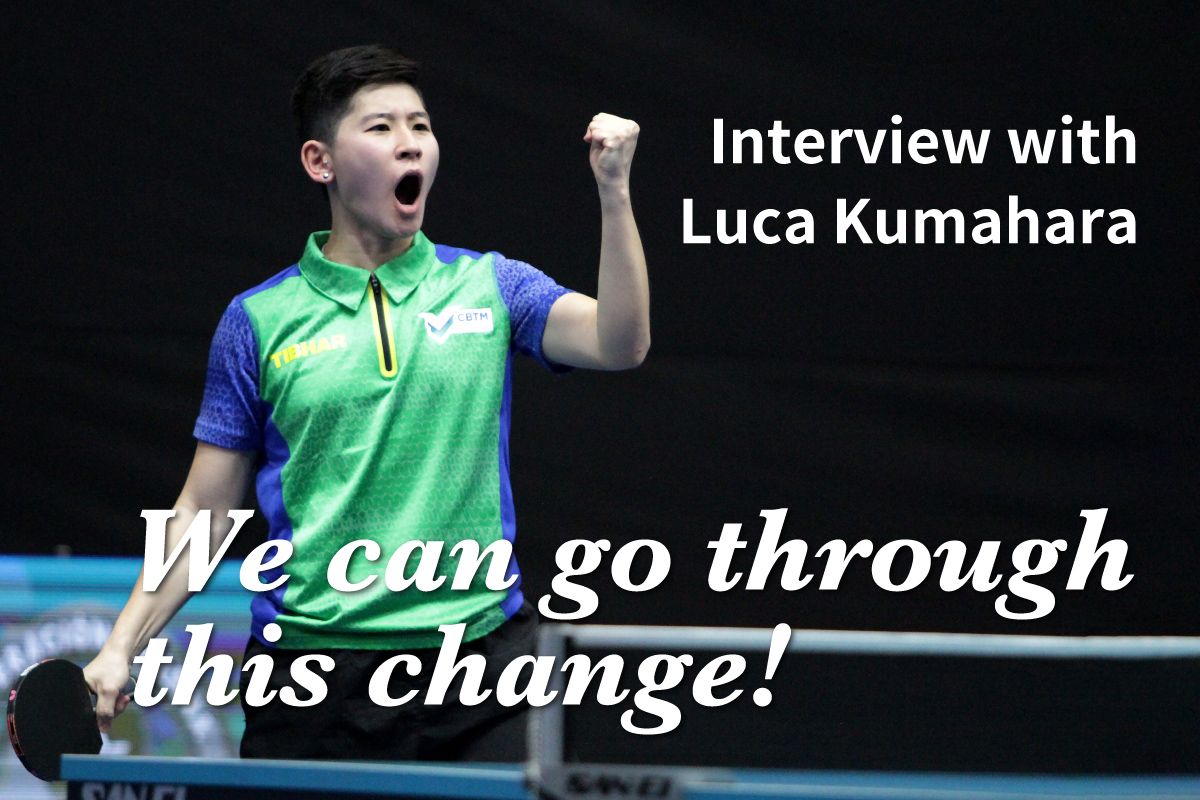 On September 14, 2022, Kumahara, a Brazilian table tennis player, posted a message on his Instagram account with his photo, "Welcome to the world, Luca!"
That was the moment Kumahara, who had told close friends that he is a transgender (a person whose gender does not match the body they were born with) for some time, declared to the world his gender identification as a male and rename to Luca. There were overflowing comments for celebration and empathy from many people including table tennis players all over the world.
In this interview, we asked him about the table tennis situation in Brazil and the tasks to be overcome for Brazil to become one of the table tennis giants, as well as considering Luca's background and his road to becoming a top player. Also, he revealed the story behind how he had become the first transgender player in the table tennis world as well as the details and his real intention of his name change and gender identification.
Representing Brazil at the London Olympic Games was an important step in my career.
-- Please tell us how you started table tennis.

Luca Kumahara (hereafter referred as LK) When I was eight years old, my family moved from an apartment to a stand-alone house and my father bought a table for leisure. That is when I was introduced to table tennis as a sport and started to play.

After a little while, my father took me to a small table tennis club, where I met Monica Doti, an Olympian, and started to practise twice a week under her coaching.

-- We guess there are many players of Japanese descent in Brazil. Please tell us the table tennis situation in Brazil nowadays.

LK Brazilian table tennis players were mainly Japanese descendants a decade ago; there were Japanese communities across the country named "kaikan" where players practised table tennis.
However, the scenario is different now. I think you can see it's a diversified situation where players with various racial grounds play if you visit a tournament in Brazil.

-- Please tell us your career and how you advanced along the road to a top player.

LK My father has always been a big supporter and demanded me to practise a lot and hard. As a result, I have achieved outstanding results within Brazil since I was young. One of them was to qualify for the 2012 London Olympics, which was totally unexpected by the coaching staff or even by me. I believe the intense training and the pressure from my father helped me cope with the pressure at the qualification stages.

I think representing Brazil at the Olympic Games was an important step in my career in terms of trust and the CBTM (the Brazilian Confederation of Table Tennis) also brought another perspective towards me. Another big step forward for me to become a professional player was that Brazil had been selected to host the 2016 Olympic Games, which made it possible for the confederation to make a big investment for our tournament participation and training abroad.
I was not able to qualify for the singles event at the Tokyo Olympic Games.
My frustration was the driving force for a good performance in Tokyo.
-- I have seen some videos where you juggle a football skillfully. I think you have had opportunities to try other sports; please let us know the reason why you chose table tennis.

LK I played football from an early age under the influence of my brothers and my father; I also practised futsal, from around nine to eleven years old, along with table tennis.

At the age of 11, I was invited by Monica Doti to practise table tennis at a more professional club and started to practise table tennis from twice a week to every day. I decided to stop playing futsal then.

I was very young at that time and still didn't understand things very well; I think I just followed my father's opinion. He thought I would have a better future in an individual sport than a team sport, futsal. Probably, it was because the men's futsal was much more popular than women's; his judgement might have been different if I could advance my career in the field of men's futsal. My brothers proceeded on to the futsal field.

-- You won in the women's singles events at the South American Championships held in July 2022 and the South American Games in October. You achieved the two best titles for South American players. Please share your feeling when you achieved those titles and the meaning of those two titles for you.

LK None of them were easy because I was the favourite for both tournaments and there was a lot of pressure to win in the singles event.

At the South American Championships specifically, the playing conditions were very difficult; the host (Pereira, Colombia) was at more than 1,400m in altitude, it was humid and there were problems with the balls. Winning in such an uncomfortable situation was a good experience of which I will be able to make the best use at future tournaments. I am very satisfied with the results in that sense. These two championships were certainly very important for me to gain the confidence for the future.

-- Please let us know your best match ever and the reason.

LK It is difficult to select just one, so I will pick three matches.
First of all, my victory against Kasumi Ishikawa (Japan) at the 2013 World Team Classic. Beating a Japanese player ranked no. 9 in the world was more than special.
The victory was also special against Zhang Mo (Canada) at the quarterfinals of the 2015 Pan American Games to win a bronze medal in the singles event. She was very strong and the defending champion. That was also special because it was the first women's singles medal for Brazil at the Pan American Games.
Last but not least, the most recent one is the victory against Lee Ho Ching (Hong Kong) in the team event at the 2020 Tokyo Olympic Games. The win was special because she is a very strong player, and my condition was very bad before and during the tournament; I was positively surprised at my performance there.
The period before the Olympics was not easy for me. I had been in a good shape and my performance had been good until then; I had high expectations for the Olympic Games. I was very frustrated and angry when I was not chosen to compete in the singles event. However, honestly, I felt I could achieve good results because I had experienced such situations.
The difficulties as a table tennis player in Brazil
-- Brazil is a table tennis giant in South America, but there still seems to be a gap from the world's top countries. What do you think the difference is and how can you make the gap smaller?

LK I think one of the big problems is the lack of a professional league in Latin America; that is something very common in Asia and Europe (at least in the countries with a long table tennis history).
Therefore, players have no choice but to depend on scholarships and assistance from the government and public administration. There are ministerial supports in Brazil, but that is not the case for many other Latin American countries. Thus, professional table tennis in Latin America is VERY difficult. To be honest, the financial assistance is one of the essential issues for an athlete to grow.
Also, the vast majority of tournaments we earn world ranking points are held in Europe and Asia, which is costly for players based in Latin America at every tournament; there are cases players are not able to participate due to their economic conditions.
Europeans can play as professionals from an early age; they do not need a visa to travel to most of the European countries. In addition, they do not need to live separately away from their family or friends.
On the other hand, for us Latin Americans, it is difficult to find a club willing to apply for a visa even though we reach a good level as an athlete because it is something very expensive for the club.
In addition, European players receive their consideration in euro and pay the expenses of tournaments (WTT series) in euros. Their accessibility to tournaments is much easier; sometimes they just take a train or a short flight, which does not cost that much. However, for a Brazilian, all costs for a tournament value five to seven times as much as the local currency.
On the rare occasions when tournaments are held in Latin America, I hear the European players complaining about the jet lag and fatigue of the trip. That is something we, Latin American players, always face every time we participate in events held in Europe and Asia. Furthermore, they often take a physical therapist with them, that does not happen in our case.
In summary, we have huge inequality of investment and opportunity, but, even so, I believe that we are already playing on equal terms with large majority outside Latin America. I think this is an important achievement.
We can go through this change.
-- I would like to change the topics from table tennis to yourself. You posted on a social media platform, on September 14, 2022, that you were changing your name from Caroline to Luca, a male name. Please let us know the reasons and judgement behind the rename and the publication as well as its meaning to you.

LK For me, since I was a child, I always felt like a boy. There was a time I tried to fit in with the socially accepted gender, a girl in my case, but I have always thought I am a boy. I did not suffer from doubting who I was, which has always been certain for me. The only change I had was, before one was aware, I became able to be exposed to the information and knowledge on gender recognition.
One thing I understood is that the transition occurs from the moment I talk to people about my gender recognition, "I am a male." It occurs when I understand myself and also when I speak it out. You don't have to go through any procedures for the transition to take place, so I thought "I don't need to live like this forever."
That is because I had really resigned myself that it was going to be that way, regarding the difference between my gender identification and recognition of others. I had understood myself in one way, but the world had looked at me in another way. I could never be myself in such public eyes. That moment was crucial for me to make this decision to tell the world.
People can make this adaptation; we can go through this transition, this change. I can keep doing my job, keep living off the sport.

-- How has the name change and the announcement changed your mind? What was the reaction of your surrounding people?

LK I think I have a great privilege to have people around me who accept this very coolly. I have also discovered that people who I didn't imagine would be so peaceful even express understanding for me. This certainly gives me confidence and peace of mind to move forward with this whole transition issue. I have received a lot of support from my family, friends, national team, coaches, club, CBTM, ITTF (International Table Tennis Federation), Brazilian Olympic Committee and even from many people I don't know personally but who knew my history since the news about my new name and transition process came out.

-- Will you tell us where the name Luca came from?

LK There is nothing special, but I think it is simple, beautiful and cute.
As a transgender "table tennis player"
-- How will the transition affect your activities as a table tennis player?

LK Honestly, I feel a bit of pressure because I think there has been an extra expectation on me since the news came out.
However, beyond that, I now feel much more comfortable, fulfilled, free and happy; it certainly has a positive effect on my performance.

-- In most sports, not only table tennis, there are only two gender categories for athletes, men and women. How do you think this static categorisation should be changed for the future?

LK I think it's a very simplistic and lazy way of defining something so important for many people; it should be looked at with much more attention and care by those who decide the rules. I hope this will be questioned more and more.
Sports are divided into women and men, but nobody questions it. For the main "argument" of transphobic people, the physical strength, I make an observation: both among cisgender women and cisgender men, some are much stronger than others (it is individual for every person, regardless of gender).
(* cisgender: a person whose gender identity corresponds to their gender assigned at birth and who leads a life according to the gender) It is certainly a very complex subject that requires a lot of study because each sport has its particularities. However, it is very important that people start to see things with a critical eye, not just following what has always been imposed. The world is changing, and things are moving forward. I hope it is the same with this topic as well.

-- Please let us know your goals as an athlete and how you would like to encourage the table tennis world?

LK First, I want to go for the gold with the women's team at the 2023 Pan American Games.
Then, I want to qualify for the 2024 Paris Olympic Games. I also want to advance in the world ranking and present a good performance in the Spanish league in which I am participating. However, I think the important thing is to play continuously with the pleasure of everyday evolution and learning.
In the future, still a long way to go, I intend to compete in the men's category. However, in that regard, I have no idea what my goals will be because it will depend on many things. Also, I would like to influence the table tennis world so that they can think and discuss about more diverse and inclusive ways and take real steps forward.
In the global trend, the understanding of the diversified gender recognition, as typified by LGBTQ, will be expanded more and more in years to come. There is no room for us to voice our objections in the tide the diversity is being respected, but, in reality, we have much to solve when it comes to a competitive sport; most of the existing rules are not based on the cases like that of Kumahara.
For that reason, we would like to pay our heartfelt compliment to the courage of Luca Kumahara who has expressed his resolution to stand against such difficulties. We hope the fact will be remedied that he has a big disadvantage as an athlete because he is a Brazilian (Latin American) table tennis player. On the other hand, it seems to have a big meaning to be a Brazilian table tennis player if the Brazilian open culture had supported his new life.
Furthermore, it would be more than happy, for me as a table tennis player, if the table tennis becomes a flag bearer to forge a new era for sports in the wake of actions taken by players, such as the one by Kumahara this time.

(Article by Takahiro Sato / Interview by Masamichi Kubo)