July 7, 2022
Interviews
Interview with Yukiya Uda and Shunsuke Togami (2/2)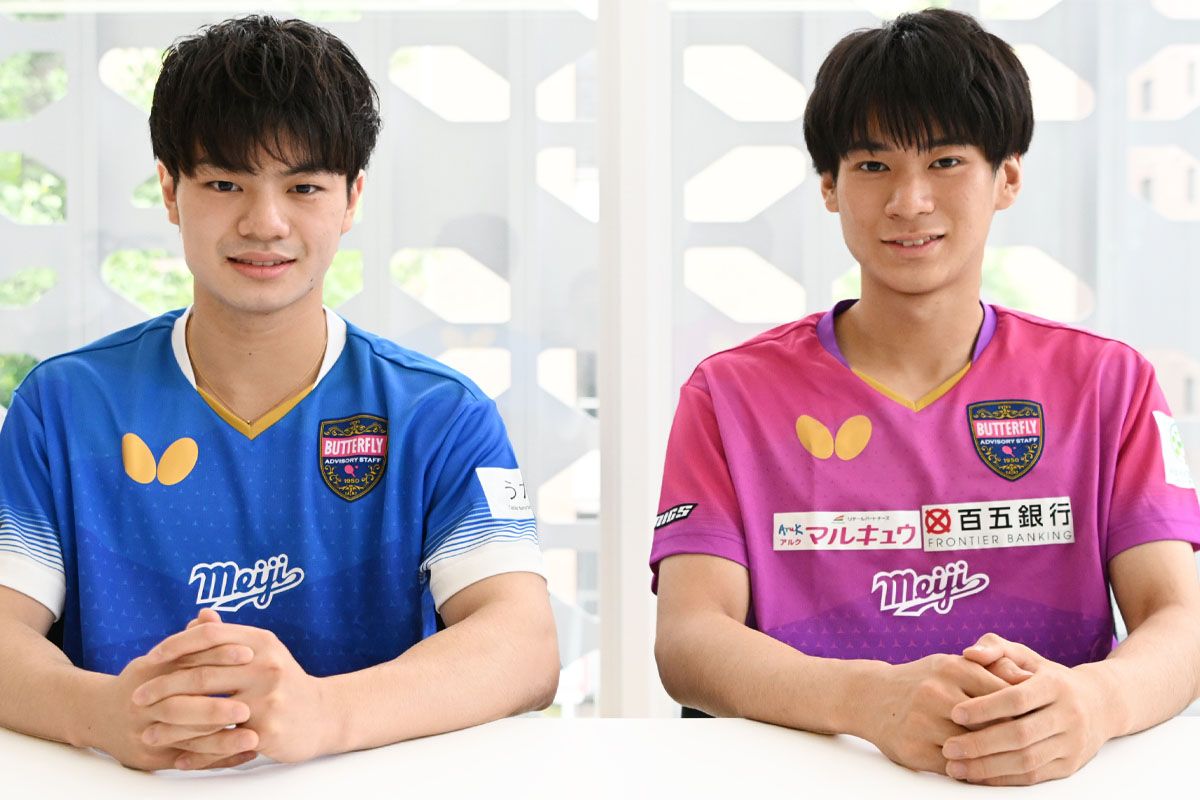 There are several turning points for athletes, where they are forced to make big choices in their individual athletic lives. There are many cases the choice made at that time can often drastically change their playing careers; either entering further education or being employed? Playing either inside the native country or abroad? Playing either as an amateur or a professional? Either retiring or continuing an athletic career?
The following series of interviews focus on players at a turning point in their careers and the reasons of their decisions.
This episode features Yukiya Uda (JPN) and Shunsuke Togami (JPN); both have decided to play in the German Bundesliga this season. Following the first edition, they told us about the strengths of their pairing, the doubles pair ranked first in the world, and the relationship between the two as classmates and rivals at the same time, as well as their targets for the future.
— The partnership has won titles at international tournaments (the WTT Feeder Freemont and the WTT Feeder Westchester) this year and shown a presence internationally; what do you think is the strength of your partnership?
Uda: One of our strengths is that we can both play aggressively to support each other. When we could not achieve stable results in the past, we played just "by ourselves" and both of us collapsed at the same time. However, our play became stable, and our playing pattern has been established that one of us assists and the other scores depending on conditions, after reviewing ourselves before the Asian Championships. We discussed how to create chances for the partner by playing safe for each other, that is the fundamental part of our recent strength.
For our target, there are doubles matches at the Olympic Games, so we will try hard to compete there. Also, we were able to win titles at the Asian Championships and the All-Japan National Championships, but we were defeated in the semi-final stage at the World Championships Finals, so naturally we want to win the title at the WTTC Finals. We will try hard to win at Grand Smashes as well.
— There was a good run for you in the final of the WTT Singapore Smash (against Fan Zhendong and Wang Chuqin).
Uda: We thought too much before the match; we were not able to display ourselves due to too much thought not to let them play as they wished, because the opponents were Chinese. We were much too afraid that we would be attacked with hard strokes if we were not able to make difficult returns. There should have been a strategy to make them attack and we would react effectively, but we rushed into attacking and made mistakes by putting too much quality on our strokes.
We could display our good skills on some occasions, of course, but there were many cases we collapsed; I think we would have been able to make the match more competitive if we could have played with more confidence. They might have been better in terms of individual ability, but I think we were better in terms of combination; we want to better exploit such excellence and win more matches.
Togami: I think our strength is our strokes which can win points outright and our coordinated play making the best use of our footwork once we start attacking. We can do such aggressive play even in receive, third and fourth balls.
Our strengths are clear for each other, so we can play to link them to achieve results. Also, we have understood our strengths as we have accumulated experience and gained the ability to win against pairs of our age. Now we can play believing in ourselves.
— Do you talk about the strategy in doubles regularly?
Uda: We review our performance after tournaments, but we do not talk about it regularly.
However, we mutually understand what kind of return the partner likes and how he will return that kind of ball in a match. We mutually find out conditions as the match proceeds, so we sometimes talk about our play based on our understandings.
ー Have you talked about your challenges in a foreign league?
Togami: We talked about that once during the expedition to the Singapore Smash. You were about to finalise the details then, weren't you?
Uda: Nothing was fixed but the negotiation was progressing.

Togami: Nothing was fixed for me, either, but I almost had a clear idea by then, so everything was my decision. I think I got stimulated by him in a way.

Uda: I think our goal is similar. Our view is similar, too, so we can discuss together. I want to try hard together.

Togami: I had felt he would play abroad.

Uda: I did not consult him, but he gave me a supportive push when I told him maybe I would play abroad. He immediately told me my playing style would fit there and I could expect further progress.
— Your mutually stimulative relationship is very nice. On the other hand, you are rivals to compete for the limited spots for the Paris Olympic Games as the Japanese representative. Please tell us about your future targets and the rivalry between you two.

Uda: Regarding our doubles (at team event), we have both said on every occasion that we are trying hard targetting at Paris; I hope that will lead to a good result. I am not sure what will happen in the end with the levels of the Japanese players as well as the selection method, but I think we need to stress that our doubles pair is strong.
Regarding the singles event, it is my individual matter, so I will have to try hard and seize the spot by myself by challenging in the German League and achieve good results at tournaments. I think all I can do is to fight through.
Togami: I think our doubles has achieved many good results and has been recognised internationally recently, but for the singles event, it is difficult for me yet to aim at the Olympics. Therefore, I want to make next one year count to develop myself abroad.
Also, it is important to challenge in a foreign league, but I have to win internally at the same time, like a survival tournament. I have a rival, Uda, always in front of me and I cannot lose against him, but at the same time I have the feeling that I want to play doubles with him. The point of our doubles is essential if we want to win against China in the team event and I think we can do it. It is important for us to accumulate experience individually and to show ourselves by achieving good results. I think there will be a tough road in front of us, but I want to try hard together.
— Please let us know if you have something to share with each other, as long-time friends and rivals.
Uda: I have nothing, we are always together (lol).
We are the same age and have been playing as rivals, now we are leading the players of the same generation. I have been stimulated by the continued rivalry that started in the final of the Bambi category of the All-Japan Championships, now we are aiming at the Olympic Games together. I think we are mutually enhancing each other because I think I have to try harder if he achieves a good result.
He is one of the reasons for my improvement, he is such a motivator for me.
One thing I want to tell you is that sometimes I am surprised at what he says; his mistakes are extreme (lol). I cannot help laughing because they are unpredictable. He is very funny.
Togami: Look who is talking. He also makes mistakes.

Uda: I don't say I make no mistakes, but his are on a different level (lol)
Togami: I have played with and against him at national tournaments from a very young age; we have been familiar with each other by competing together worldwide after entering junior high school. He is the one I regard as a rival unconsciously; that is why now I think I will work together with him. I strongly wish to take part in the Olympics. I wonder what I would do now if he was not playing close to me.
I could not imagine when I was in the second grade of elementary school, that I would compete alongside the opponent against whom I played in the final. It is no doubt that I am who I am because he has been playing against me. I want to try hard together as it is us who will lead the Japanese team even if we take a different route in the future.
This is our third interview for Yukiya Uda and Shunsuke Togami by Table Tennis Report. It is our first interview for them as two Japanese champions, but nothing has been changed; the interview proceeded with many laughs and laughter as always.
What is the cause of this friendly atmosphere between the two rivals engaging in fierce competition? It must be partly because of their congenital characteristics, but through the interview this time, we felt their fundamental respect to each other as table tennis players. Also, one of the reasons is the fact they have seen the efforts of each other from up close, including the way to face table tennis, their practice and their daily life. It is no doubt that the sense of trust in each other cultivated over the years is the source of their strength as a pair.
How can they make the best use of the existence of their archrivals in their immediate circles? We cannot take our eyes off the two players who are aiming for the Paris Olympic Games.