July 7, 2022
Interviews
Interview with Yukiya Uda and Shunsuke Togami (1/2)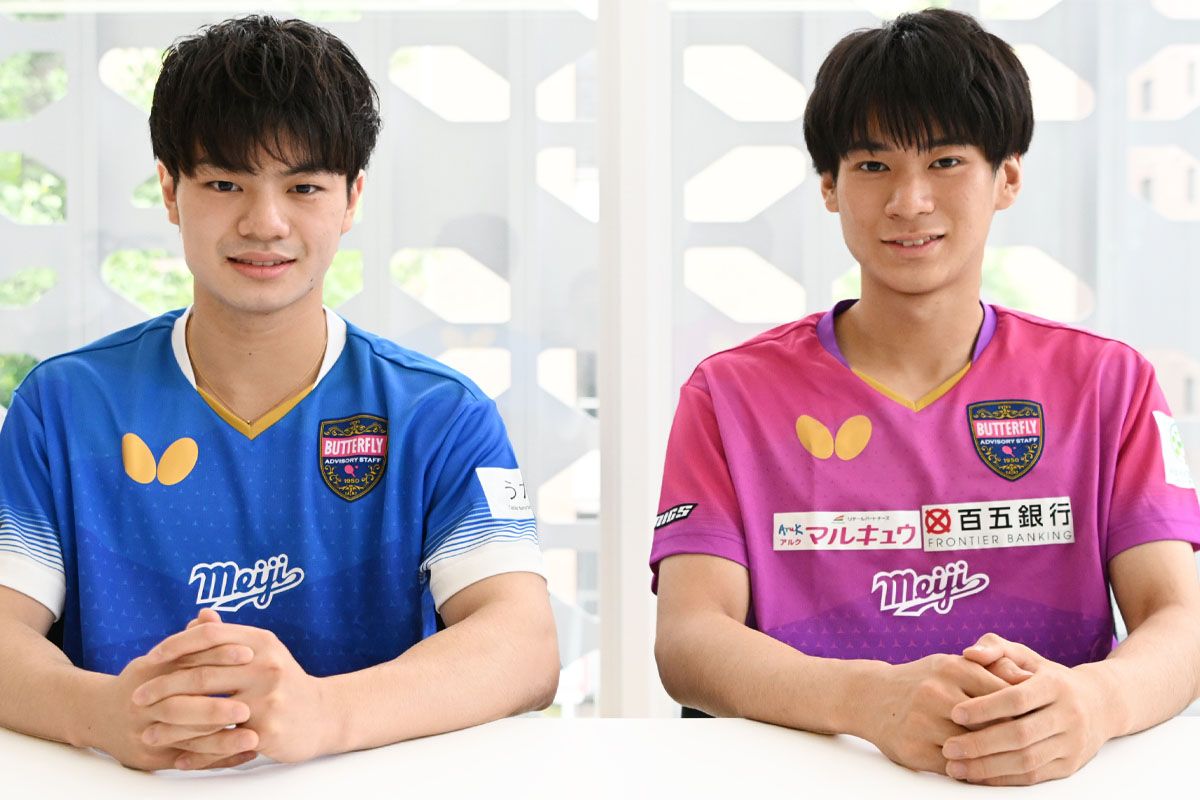 There are several turning points for athletes, where they are forced to make big choices in their individual athletic lives. There are many cases the choice made at that time can often drastically change their playing careers; either entering further education or being employed? Playing either inside the native country or abroad? Playing either as an amateur or a professional? Either retiring or continuing an athletic career?
The following series of interviews focus on players at a turning point in their careers and the reasons of their decisions.
This episode features Yukiya Uda (JPN) and Shunsuke Togami (JPN); both have decided to play in the German Bundesliga this season. They told us about the reasons for their decision, and their determination to succeed, as well as reviewing their play in international tournaments and the internal selection series.
— Please let us know the reason why you decided to participate in the German Bundesliga this season, Mr. Uda, please.
Uda: I chose the German Bundesliga because my wish is to play in a higher-level environment as it is a league with plenty of strong players from many countries.
In addition, with the Paris Olympic Games in mind, I wanted to play abroad where I can compete against various types of players, rather than the T.League where the opponents are limited and I am already familiar with many of them; the internal competition will be gradually more intense soon.
I will join TSV Bad Königshofen where Mr. Itagaki is a director. I will be able to practise in Düsseldorf where the German national team members train, communicating with the team while I am away, which was the decisive factor. Ms. Umemura (Aya Umemura, Tamasu Butterfly Europa GmbH) and my father (Naomitsu Uda) communicated and proceeded with the contract.
— Has the teammate been decided?
Uda: Bastian Steger (GER) and Kilian Ort (GER) have been decided. Steger has vast experience in the Bundesliga, but I think I still have a chance to compete in singles and doubles; I want to contribute to the team now that I am a member. I want to play and win as many matches as possible because I want to accumulate experience and link it to my own development.
— Mr. Togami, this will be your first challenge in an overseas league.
Togami: Yes. I have long hoped to experience an overseas league at least once before the Paris Olympics; I wanted to try last year, but I concluded "I had better not go in 2021" after discussing with Mr. Takayama (Yukinobu Takayama, the head coach of the table tennis club in Meiji University). I decided to go abroad when I had the chance this year (2022).
The biggest trigger of my decision to play abroad this season is the loss against Darko Jorgic (SLO) at the WTT Singapore Smash; I thought "I have to be stronger". I started thinking strongly about playing overseas as the sense of crisis increased. I thought I have to acquire more competence by accumulating experience and wins against higher-ranked players.
Then, I started to consult with various people and took action for myself, there were both approving and disapproving voices. The final decider was the comment from Mr. Hashizu (Fumihiko Hashizu, the head coach of the table tennis club in Noda Gakuen High School). "It is your life, decide for yourself," this is the advice he gave me, I made up my mind to go abroad. My team will be TTF Liebherr Ochsenhausen, where I have been when I was a high school student.
— TTF Liebherr Ochsenhausen is a strong team.
Togami: That is right. There is Simon Gauzy (FRA), Alvaro Robles (ESP), Kanak Jha (USA), Can Akkuzu (FRA) and Samuel Kulczycki (POL) in my team. They are all strong, so there is no guarantee that I can play every match.
However, the team and the town Ochsenhausen will provide me with the environment where I can concentrate on table tennis, and I think the best way to be stronger is to be tested by strong teammates in a strong team. I have concerns, of course, but I strongly want to take part in matches once joining the team. I want to overcome the competition inside the team.
— What kind of concerns do you have?
Togami: First of all, I am concerned if I will be selected and if I can win when I have the chance to play.
Also, I am a bit worried if I can live on my own in Germany, but I am looking forward to it at the same time.
— Mr. Uda, are there any expectations or concerns?
Uda: I have no such concerns. I played with a team in the second division when I was a high school student; I went to the practice hall by myself and joined the team when they were having matches. I have travelled for nine hours each way by car and train by myself, so I think I have already experience in that respect. I know trains are often delayed there; one-hour delay is just normal (lol).
Düsseldorf, where I will train, is equipped with good facilities. I think it is as important to practise in Düsseldorf as to take part in the Bundesliga, so in a way I decided the place from the viewpoint of a practice environment.
In Düsseldorf, German national team members including Timo Boll and Dimitrij Ovtcharov (GER) practice there and many more strong players such as Kristian Karlsson (SWE), so I think I can practise in a high level.
— Regarding international tournaments, you made it to the semi-finals at the WTT Singapore Smash in March, Mr. Uda.
Uda: I was able to win against much higher-ranked players. To start with, the win against Boll in the second round gave me confidence. It was three years ago (2019 Czech Open) when I last played against him; I lost 0-4 because I could not adjust to the quality or the spin of his strokes. I was able to display myself unexpectedly well this time as I changed my strategy based on the last loss.
After that, I played against Lim Jonghoon (KOR) in the third round and Dang Qiu (GER) in the quarter-finals. It was a rematch against Dang after Houston (the 2021 WTTC Finals), but I was able to revenge the defeat. I thought it would be a tough match, but I was eager to win this time, so I was able to win although I was behind 1-2. 
Dang is a penhold player and good at defending. There were many cases that I could not deal with his service, but I was able to adjust myself in the fourth and fifth games and I could compete aggressively without making many mistakes, which was good.
— You put up a great battle against Fan Zhendong (CHN) in the semi-finals.
Uda: I could fight a better fight even in rallies than I had expected. Fan played rather solidly in the doubles event, but his strokes at essential points were strong in the singles and they were difficult as I had expected.
However, I was able to win points in rallies, so I could play without thinking deeply too much about his service. My services were effective, and I was able to have rallies and then turn the tide when I could return his service without making mistakes in some degree; I was able to discover that fact by actually facing against him this time, so that was a big achievement. I felt my development there and I could partly find what I should do next.
However, his pressure when we were close was very fierce, something I had never felt before. Due to his determination not to let me score any points easily, his threatening pressure, I caved in and lost the fourth game, which is regrettable. The match gave me big confidence all in all, although I was defeated.

— What was your response at international tournaments after March, Mr. Togami?
Togami: To be honest, I have not achieved any results with which I can be satisfied. I have felt the pressure of being hunted; I think I have run into an invisible wall.
I don't think I am passive, but sometimes my play becomes passive in a close match. I think I should play more fearlessly, but that is difficult.

— You told us you are playing like you are knocking the opponent into smithereens during the interview just after the All-Japan National Championships, but is your mental attitude the same?
Togami: I haven't had that attitude recently; it is difficult. There may be some feeling in myself I have not yet understood.
I think I am improving technically, but there are many cases lately that I lose in important matches, so that is my problem.

— You lost against Hiroto Shinozuka (JPN) in the second round at the Lion Cup Top 32, in a close match.
Togami: I was somehow much too conscious that it was the first important tournament after the All-Japan Championships; I think the result was the outcome of my consciousness.

— You made it to the finals at the selection event for the coming Asian Games.
Togami: The match (the final against Maharu Yoshimura) was the trigger of my reviewing myself.
I was too passive at the Lion Cup, on reflection, I tried to increase my attacking play at the selection tournament for the Asian Games. However, I did too much and lacked stability; that was the match I displayed my shortcomings.
I was able to play with confidence, so I feel I maybe I had some technical problems at the match.
In the second edition following this, they share their thoughts on their pairing ranked first in the world (from the 12th week 2022), their future targets and so on.